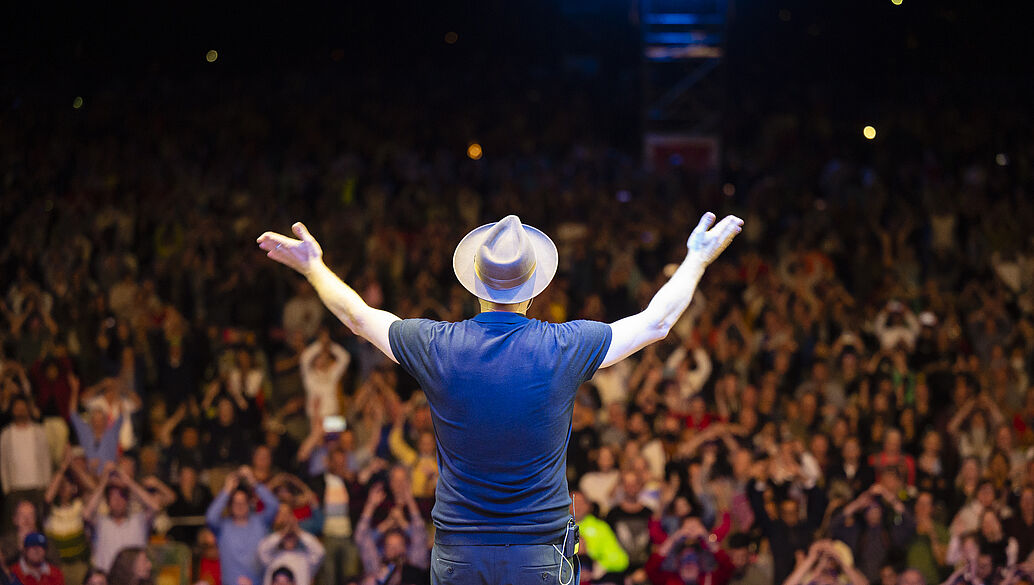 The Open Air
A Concert with Friends and Companions
It was a magical night with emotional memories: Nuremberg percussionist Wolfgang Haffner invited 2022 his friends and long-time companions for the fifth time to the Luitpoldhain. Together with Nils Landgren, Ivan Lins, Mezzoforte, Max Mutzke, Nightmares On Wax, Cassandra Steen and Special Guest Thomas Quasthoff he won the hearts of the audience.

And a rekord was broken: 65.000 people experienced a "Night of Jazz & Friends" in 7th August 2022.
An Additional Programme with a Very Special Appeal
On the one hand, Stars im Luitpoldhain tries to emphasise the City's view that jazz is important, with at least a few highlights, after the end of "Jazz Ost-West". On the other hand, the open air is to be a medium-term additional programme supplementing the Klassik Open Air concerts which today attract very many people. The core concept is to focus the programme on a Franconian artist with a national and international network and offer exceptional, unique projects with a very special appeal to capture the attention of many.
Star Drummer Wolfgang Haffner as Host
Wolfgang Haffner is just the right person to be the focus of this programme, and is therefore the artistic director of Stars im Luitpoldhain. In the past 30 years, Haffner has made music with many international greats of music, such as Pat Metheny, Hildegard Knef, Xavier Naidoo, Jan Garbarek, Die Fantastischen Vier, Till Brönner, Cassandra Wilson, Chaka Khan, Thomas Quasthoff, Klaus Doldinger, Nils Landgren, Mezzoforte and Helge Schneider. He has never bothered with labelling: "One minute they say you're a jazz drummer, the next that you are a rock drummer – why? You can do anything you want, you just have to do it well, and that's my approach." So far, he has done very well with this: he has recorded hundreds of studio albums; tours – whether as sidekick or bandleader – have taken him around the globe.