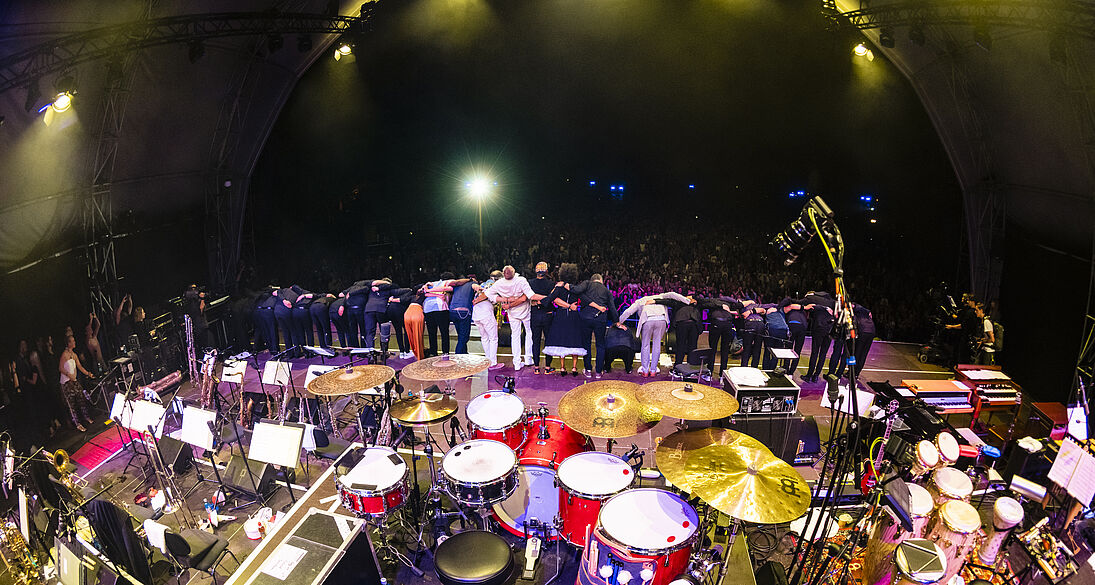 Archive
The success story of this open-format series of open air events in Nuremberg's Luitpoldhain started in 2011 with bass baritone, Thomas Quasthoff & Band and continued in 2015 with Haffner's friends and companions Viktoria Tolstoy, Roger Cicero, Max Mutzke and Nils Landgren, and 2017 with Till Brönner, Stefanie Heinzmann, Nils Landgren, Thomas Quasthoff and Wolfgang Niedecken.

Wolfgang Haffner invited his very special musician friends to a Night of Jazz & Soul in Nuremberg. Already for the second time on stage in Luitpoldhain: bass baritone Thomas Quasthoff and the Swedish singer and trombonist Nils Landgren. With further companions such as Stefanie Heinzmann, Wolfgang Niedecken, Till Brönner and the specially assembled German All Star Big Band, led by Jörg Achim Keller, it became an unforgettable summer night concert.
This concert made history. Everybody assessed the second edition of the Stars im Luitpoldhain events as Germany's biggest jazz open air ever. The audience, the atmosphere, the live experience exceeded even the highest expectations. The recipe: some top stars from the European jazz scene, animated by multi-talented drummer and Nuremberg Culture Award Winner, Wolfgang Haffner, a unique backdrop such as Luitpoldhain, a simply unrivalled All Star Big Band and arrangement created specially for this event. Stars im Luitpoldhain thrilled audiences and players alike. And, thanks to the support of Sparda-Bank Nürnberg and other sponsors, for free!

Wolfgang Haffner invited his very special musician friends and companions to Nuremberg: Swedish vocalist, Viktoria Tolstoy, German entertainers and singers, Roger Cicero and Max Mutzke, Swedish singer and trombonist, Nils Landgren, the man with the Red Horn, jazz legend Klaus Doldinger on saxophone, and Jörg Achim Keller, NDR Bigband leader, as the man with the baton and as great arranger. In superb weather, together with the exclusively assembled German All Star Big Band, they ignited Jazz, Pop and Soul fireworks extraordinaire for nearly three hours.
Thomas Quasthoff is a world star of the classical music scene who has been at home on all major stages for many years, in La Scala just as much as at the Salzburg Festival. Honoured with two Grammy Awards, Thomas Quasthoff is even for many the "man with the world's most beautiful voice" (STERN). As a superb singer of Jazz and Soul classics, he was recently honoured with the "Echo Award" for Jazz.

On 20 July, 2011, during a concert in Luitpoldhain, Thomas Quasthoff & Band introduced their award-winning programme "Tell It Like It Is": open air and with free entrance. Quasthoff wanted to experience the wonderful atmosphere of the KLASSIK OPEN AIR with over 100,000 visitors which had already become such an unparalleled tradition. His percussionist, Nuremberg musician, Wolfgang Haffner, 2010 Echo Award winner for best Jazz percussionist, had told him about it.